The expansion is described as the following as taken off the NAMM website: "The 2018 NAMM Show will offer an enhanced show experience for all exhibitors and attendees —with more room for exhibit, educational and community areas as we unite the world's music products, pro audio, live sound, lighting and entertainment technology communities. Using best practices from urban planning models and working collaboratively with NAMM members we will utilize this opportunity to introduce new benefits across the expanded NAMM Campus."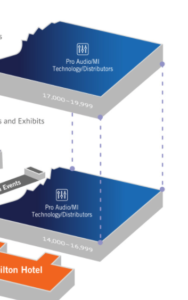 The new ACC North Hall will showcase two connected levels, expanding the size of The NAMM Campus by 20%. The new ACC North Hall will seamlessly integrate in to The NAMM Campus and two levels will be connected by escalator sets. The second level will be joined to the current Convention Center by a sky bridge connection, expanding our stable business platform with 20% more multi-use space.
Many manufacturers are committed to showing this coming year, and I suspect more will be signing up in the coming years. This means a great new show, that most in our part of the industry haven't been attending since so many of the lines weren't geared towards our part of the market. That will all change this year with this expansion. We've been told that in the years to come, they will offer even more new stuff, including live speaker demo's.
This is right in our back yard, and costs less to travel to. Its certainly easier than driving out to Vegas, or flying to Orlando. Besides, who wants to travel to Orlando anyways?!?! We believe this will turn out to be a great show, and a great way for us to highlight pro audio products to more of you, our customers without having to travel quite as far. For those in Orange County, this will be exceptionally convenient.
Here are some of the other manufacturers signed up to show at NAMM 2018:
Avid
Harman
QSC
Shure
Sennheiser
Pioneer
Roland/BOSS/V-MODA
Electro Voice
Yorkville
Presonus
New education will be offered, with more space. This should prove to be a great show, and we hope you can make it there. All of us at Pacific AV will be present for the entirety of the show, and will be available for meetings. Don't forget, if you aren't completely exhausted after the show closes, there will be a whole host of activities after-hours, including lots of live music and other special events. Renkus-Heinz will be highlighted again this year providing loudspeakers for the Marriott hotel lobby.
We will continue to post and send updates on the show, and we hope to see you there!
You can find out more info at this link, including a video that shows the expansion, and new layout! https://www.namm.org/2018-expansion