Anaheim California USA – January 2018

Luminex America Kicking off 2018 with a new event Luminex Network Intelligence will be at Winter NAMM in Anaheim CA USA for their premiere appearance.
When it comes to plug-and-play networking technologies Luminex Network Intelligence leads in the entertainment industry and system integration market.
NAMM 2018 marks the introduction of GigaCore 10, the first truss-adaptable switch in the GigaCore family. The 19-inch half unit can be mounted in truss, on a wall or in a single or double rack. The robust metal enclosure and rugged Ethercon and (optional) Fiber connectors make this unit excel in truss mounted applications with Ethernet enabled devices, such as moving lights, PA systems, microphones, PTZ cameras or general stage connectivity. The GigaCore 10 offers ten ports in total, eight Ethercon connectors and two slots for rugged fiber (Neutrik of FiberFox).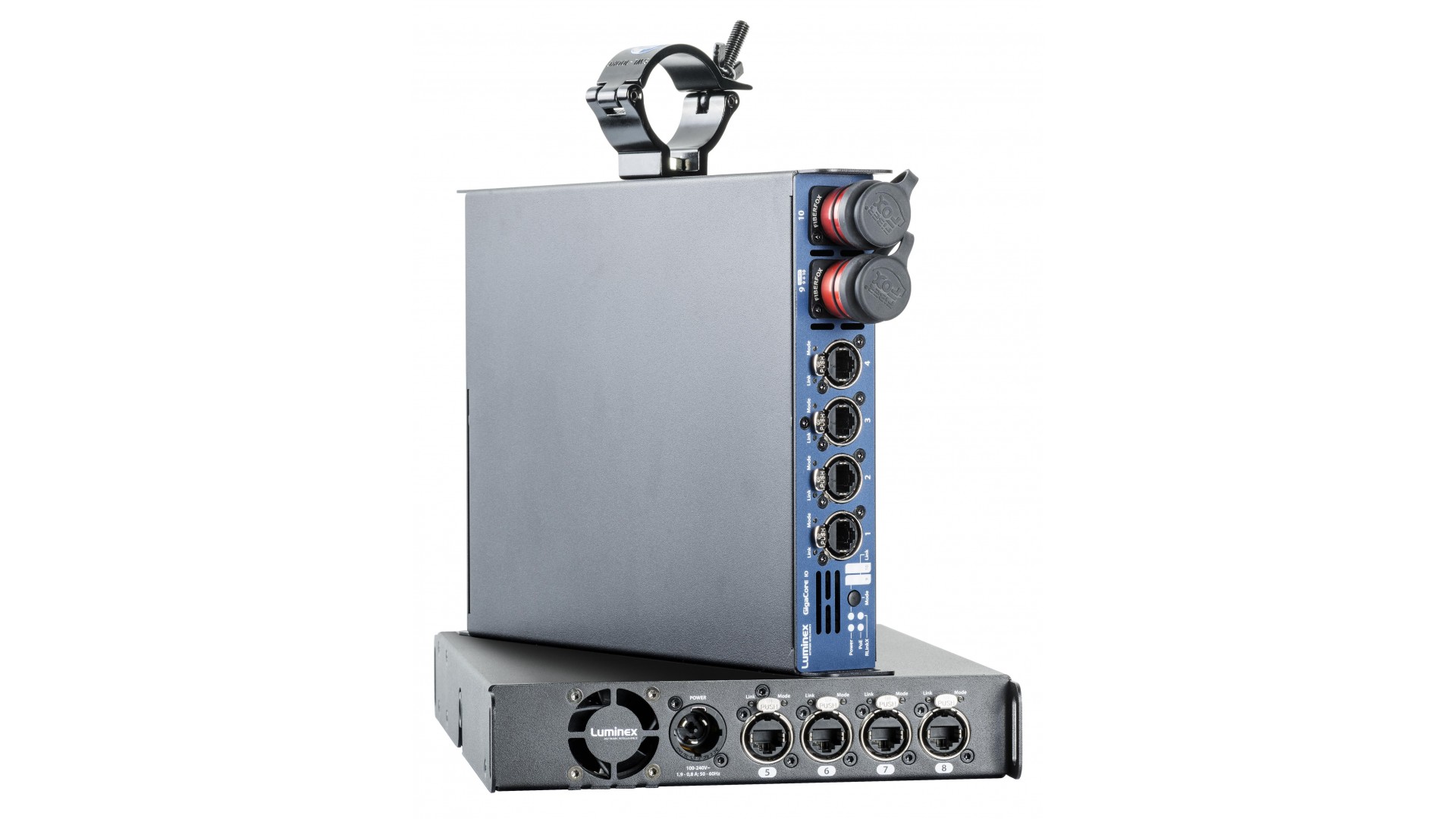 In addition to the GigaCore 10 introduction Luminex will be presenting the new GigaCore v2.6.1 firmware bringing some major improvements on PTP, PoE management and network monitoring. With the constant growth of Audio over IP solutions, Luminex has enhanced the performance of the Precision Time Protocol handling, especially with applications running AES67. PoE handling now offers advanced power management settings allowing users to select between class based consumption and class based allocation providing even more flexibility when connecting PoE devices such as cameras or PoE loudspeakers.
"The recent expansion of Winter NAMM gives us the perfect venue to introduce some of our latest developments," remarks Hugo Larin, Director of Luminex America. "The release of GigaCore 10 has been much anticipated, it's the perfect form factor for our many production and entertainment based customers. Couple that with our new firmware and offline editor tool and we're looking forward to a very busy show."
As you find your way to the Pro Audio Exhibits in the new North Hall stop by booth #18105 for a product tour and say hello to Hugo Larin director for Luminex America and US sales director Rik Kirby.
About Luminex
Luminex Network Intelligence is a Belgian-based manufacturer of data distribution equipment for professional lighting, audio and video applications, mainly for the entertainment industry. We offer a complete range of network switches, converters/nodes and DMX splitters, providing AV designers and technicians with cutting edge technology to build a complete data distribution system for big events or large venues. Our commitment is to make it as easy as possible to deploy a professional AV network, even without the need of any IT knowledge, and our plug-and-play GigaCore switches do exactly that. They are completely pre-configured to transport all common-used lighting and audio protocols, such as Art-Net, MANet, Dante™, RAVENNA/AES67, PTP V2 and many more.
Luminex LCE nv (hq)
Slamstraat 13 (poort 2489)
3600 Genk BELGIUM
Tel: +32 11 812 189
Luminex America
For more info about this release contact: Margie Kirby
Tel: +1 949 436 4745