ClearOne 2014 Winner of the Frost and Sullivan 2014 Market Leadership Award
Installed Audio Conferencing Systems
Frost & Sullivan is in its 50th year of business with a global research organization of 1,800 analysts and consultants who monitor more than 300 industries and 250,000 companies. The company's research philosophy originates with the CEO's 360-Degree Perspective™, which serves as the foundation of its TEAM Research™ methodology. This unique approach enables us to determine how best-in-class companies worldwide manage growth, innovation, and leadership. Based on the findings of this Best Practices research, Frost & Sullivan is very pleased to present the 2014 Global Market Leadership Award in Installed Audio Conferencing Systems to ClearOne. The Frost & Sullivan Award for Market Leadership is presented to the company that has demonstrated excellence in capturing the highest market share within its industry. The Award recognizes the company's leadership position within the industry in terms of revenues or units, as specified.
ClearOne's Leadership in the Installed Audio Conferencing Systems Market: While ClearOne has been rapidly expanding its product line to enter new and adjacent markets for audio and video applications, the company remains focused on its core audio conferencing business. Backed by a strong product line, ClearOne continues to lead the Installed Audio Conferencing Systems market in terms of worldwide market share.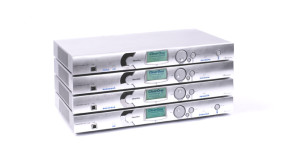 ClearOne is a global company that designs, develops and sells conferencing, collaboration, streaming and digital signage solutions for voice and visual communications. The performance and simplicity of its advanced comprehensive solutions offer unprecedented levels of functionality, reliability and scalability. As a market leader, ClearOne is focused on developing cutting-edge conferencing and collaboration products. We are known for our industry innovation, committed to incorporating the latest technologies into our product lines: the industry's first product to use Distributed Audio Echo Cancellation™ in an audio conferencing system, the industry's first conference phone to provide wireless conferencing, the industry's first fully-scalable conference phone that daisy-chains multiple phone units,  and the industry's first product to bridge the wide price/performance gap that existed between plug-and-play tabletop conferencing phones and professionally-installed audio conferencing systems. ClearOne provides the industry's most complete audio conferencing product line. With our StreamNet™ multimedia technology and our MagicBox digital signage solutions, end-users can conference, stream audio and video and create custom content on common platforms. We will continue to bring together our technologies and solutions to provide the promise of AV and IT convergence on a common platform.
I would like more information on ClearOne